Stats
| | |
| --- | --- |
| Views: | 230 |
| Questions: | 0 |
| Followers: | 6 |
Last Updated on Wednesday, 24 August 2016 10:47pm
This inspiring patriotic version of "To Achieve The American Dream, Remember Your ABCs" poster features the American Flag background is 24X36 inches and has helped fulfill millions of dreams under the original title "To Achieve Your Dreams, Remember Your ABCs".
Information
| | |
| --- | --- |
| Quantity Available: | Unlimited |
Full Description:

General Description

Made Per Order - May add up to three days to our standard delivery time

*24" W x 36" H

*Glossy thick photo stock

*Exclusive New Design

*This product does not come framed. The frame you see in the picture is part of the print.

*This inspiring patriotic version of "To Achieve the American Dream, Remember Your ABCs" Poster is the fifth design edition of the publication of these ABCs as a poster and features an American flag on a blue sky background. The words, which are the same as those appearing under the original title "To Achieve Your Dreams, Remember Your ABCs," are by Wanda Hope Carter.


Product History

To Achieve The American Dream Remember Your ABCs, is the re-titling of the original "To Achieve Your Dreams Remember Your ABCs"

In 1991 when Wanda Hope Carter came up with the collection of inspiring and motivating lines included in "To Achieve Your Dreams Remember Your ABCs," it was to help herself through a difficult time in her life. They came to her over a period of time as answers to prayers for guidance through various circumstances and challenges that she faced. Finally she wrote them down and invented a title in order to share them with her family and friends. Her mother suggested that she send a copy to Dear Abby. She did and to her surprise several months later they were published and shortly after that she was offered the opportunity to turn them into posters available in department stores. Since then they have reached millions of people worldwide.

Her "ABCs" have been published four times by major poster publishers since 1992. They have sold nearly four million copies including the Spanish version "Para Lograr Tus Suenos Recuerda El Alfabeto." An "ABCs" poster was used on the TV set of "Sister Sister," included in a "Wife Swap" episode and in a Disney "Lizzie Maguire" movie set. The words also appear on the book jacket of "The Living Dreamer" by Brett Angelson, and in "You Can Make Your Dreams Come True" by David T Perry. It has been published twice in Dear Abby, once as the original letter Wanda Hope Carter sent to her and once under a "Best of Dear Abby" column by the request of a reader. "To Achieve Your Dreams Remember Your ABCs" has been and still is featured on a wide variety of websites with the Author's permission and is the subject of many products on the market and those that are exclusively available throughout this website.

Wanda Hope Carter is also working on a book about her "ABCs" that includes stories about her life, letters from people who have used them as well as helpful tips about how to put them to work in your own life. If you have a success story or any other account of how you use the "ABCs" or photographs of product images in use, we would be happy to receive them "HERE" for consideration of publication.

These "ABCs" are sure to inspire, motivate and facilitate many dreams coming true!


Helpful Tips

Creative Uses of Your Poster

You won't have trouble finding a place to hang your beautiful and inspiring "To Achieve the American Dream, Remember Your ABCs" Poster as it will look great with any decor and is appropriate for any room in your home, dorm or office.

According to the letters and contracts we have received over the years, the "ABCs" posters in general have been used in homes, schools, offices of all types including doctors' and psychologists' offices, churches, waiting rooms, on TV and Movie sets, in locker rooms and in lecture halls. They have been seen by millions of people around the world helping to inspire and motivate those who are on track to achieve their dreams. They have inspired students, parents, children, teachers, pastors, artists, musicians, athletes, writers, business managers and owners along with many types of other folks who have goals to reach for and dreams to achieve. This poster will also make a fantastic gift that keeps on giving and it will be sure to change the lives of all who read it and take it to heart.


:)

ENJOY!
Questions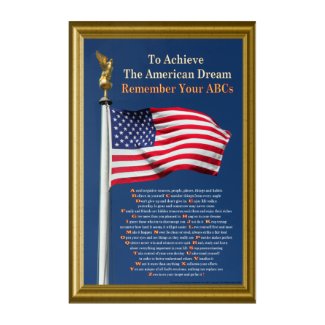 To Achieve The American Dream Remember Your ABCs Acrylic Wall Art
by
Wanda_Hope_Carter
View more American Acrylic Wall Arts at
zazzle.com