Payment Options
$

1,999.00 USD

$3,499.00 USD
Stats
| | |
| --- | --- |
| Views: | 311 |
| Bids: | 0 |
| Questions: | 0 |
| Followers: | 2 |
Last Updated on Tuesday, 16 August 2016 11:14pm
1970s Casino style multi-game table with four chairs. High quality Italian craftsman design work features a variety of fine wood species inlaid in a decorative floral design and accentuated with scrolls
Information
Full Description:

Table approximately 31W X 31D X 29H Inches

High quality Italian craftsman design work features a variety of fine wood species inlaid in a decorative floral design and accentuated with scrolls. Primary surfaces are made of a luscious burl wood.

Inlaid designs appear on the table top, table sides, cabriolet table legs, chair seats and chair backs. Game boards are also beautifully crafted.

The wood work is coated in a high gloss lacquer finish on the table and chairs.

This casino style game table elegantly accommodates card players, chess and checker games, as well as backgammon and roulette. It features an easy lift off top that reverses into a game board. A second top below contains another game board on one side and felt coated for card playing on the other. Beneath the boards is a roulette table that slides open to expose the roulette wheel.

The table has been rarely used and served primarily as a show piece. But when it was used, it was lots of fun and everyone was always surprised to see how it easily opens up to reveal so many options hidden below the top.

Overall condition is very good.

Wear Marks: There are light barely noticeable small scuff marks on the table top edges. There is a water stain on the green felt side underneath the hidden game board. The very bottom of the legs are slightly discolored. The back of one chair has very fine hair line cracks in the top layer of the lacquered finish. (See the pictures)

Free local pick up is included but I can refer you to a place where you can bid out shipping to a variety of carriers if you are in a location not convenient to NE Florida.


FROM MY PRIVATE ESTATE

The purpose of personal items being put up for sale at this time is to raise money to help me achieve my own dream to continue providing inspiring self help and other useful information to the public through a variety of means.

Years of battling with health issues have been challenging but have not deterred my hopes for the future. Like the "W" in To Achieve Your Dreams says, "Want it more than anything." The auctioning off of personal property will help me raise the money needed to accomplish my goals of helping others.

Thank you for your interest!
Questions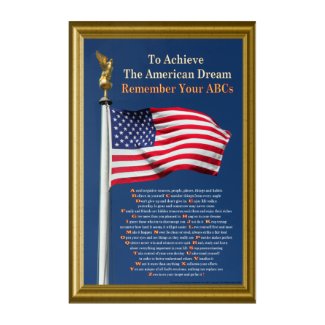 To Achieve The American Dream Remember Your ABCs Acrylic Wall Art
by
Wanda_Hope_Carter
View more American Acrylic Wall Arts at
zazzle.com