Time
Saturday, October 12, 2013 12:01 am - Sunday, October 13, 2013 5:30 am
Old Farmers Day honors the hard labor of farmers throughout American history. Early American culture was heavily a farming culture. Early settlers cleared fields and pristine woods, to farm the rich land. They brought seeds and farming methods with them. They found new seeds, and learned new methods along the way. Many of those new farming methods came from Native Americans, who were already farming the land. Most notably, was the concept of hilling, or mounding soil.
The month of October is a very appropriate month to celebrate and honor farmers. At this time, the harvest is largely complete. It means that farmers can take a break from their labors, to enjoy this celebration.
A farmers' work is long and hard. It certainly doesn't make a person rich. It has its good years, and its bad ones. There is no guarantee of a good crop. Weather, pests, and disease problems often prove disastrous. But, through it all, farmers have persevered. And, their ceaseless hard work sets an example for all.
As Americans, we tip our hat to all farmers for their contributions to American culture, values,society, and the economy. Happy Old Farmers Day!
---
Origin of Old Farmers Day:
The origin of this day seems to date back to the early to mid 1800's.
There appears for be many dates in September and October for local town "Farmer Days". Many have been around for a long time. For some unknown reason, October 12th is by far the most common date for this celebration of farming and of the harvest they reap.
---
View More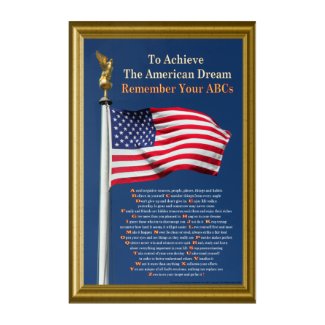 To Achieve The American Dream Remember Your ABCs Acrylic Wall Art
by
Wanda_Hope_Carter
View more American Acrylic Wall Arts at
zazzle.com