Time
Saturday, August 31, 2013 12:00 am - Monday, September 2, 2013 11:59 pm
We read recently that if there were no blame on earth for just three days, "the course of the world's trajectory could be changed for the better." (Dr. Edna Lister)
Just that? Wow. If it's possible... Talk about food for thought!
No blame... No blaming of self, no blaming of others, of circumstances – simply setting it aside for a mere three days. Call it a cease-fire – no commitment beyond holding blame in abeyance for only 72 hours, over, say, one long weekend. Not avoiding the issue of accountability - just not thinking/feeling about blaming for awhile. Could the absence of – the abstention from – an attitude and its attendant emotions be that powerful in the world?
...There's only one way to find out. If this could be really, really BIG, we thought, wouldn't we want to make the investment of energy in such an amazing experiment and see what happens?
Yes. Absolutely yes!
or see "Most Beautiful Day" video at http://www.youtube.com/wa...

View More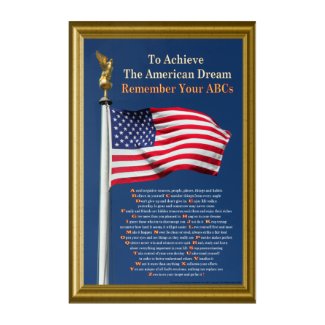 To Achieve The American Dream Remember Your ABCs Acrylic Wall Art
by
Wanda_Hope_Carter
View more American Acrylic Wall Arts at
zazzle.com