Time
Monday, August 21, 2017 12:48 pm - 4:02 pm
August 21, 2017 — Great American Eclipse (Total Solar Eclipse)
The total phase of this total solar eclipse will be visible from a narrow path spanning all across the USA from the East Coast to the West Coast (see map below), weather permitting.
Where to See the Eclipse
Regions seeing, at least, a partial eclipse: West in Europe, North/East Asia, North/West Africa, North America, Much of South America, Pacific, Atlantic, Arctic.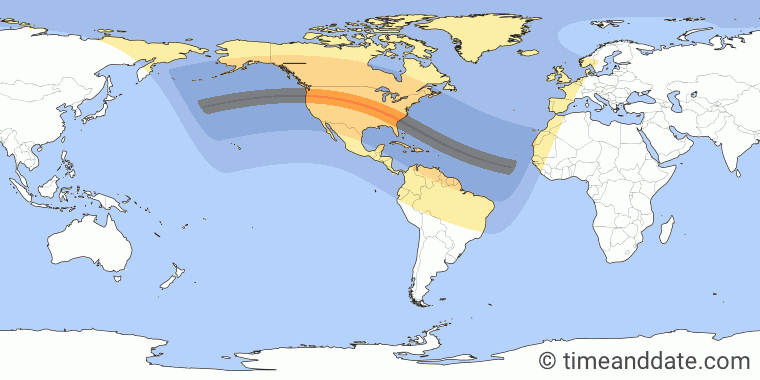 Area seeing the total solar eclipse.
 More than 90% of the Sun is covered.
 Up to 90% of the Sun is covered.
 Up to 40% of the Sun is covered.
 Eclipse is not visible at all.
Note: Percentage values (%) relate to moon coverage of the Sun and depends on location. Visibility is weather permitting.
Where & When Is the Maximum Point?
The eclipse will begin at 15:45 UTC. The maximum point of the eclipse will take place near Hopkinsville, Kentucky at 18:20 UTC. Totality will last for 2 mins 40 secs.
First Total Eclipse in USA Since 1979
This is the first total eclipse of the Sun visible from all 48 contiguous United States (excluding Alaska and Hawaii) since 1979. The last time a total eclipse was visible from coast to coast was in June 8, 1918.
When the Eclipse Happens Worldwide
The eclipse starts at one location and ends at another. The times below are actual times (in UTC) when the eclipse occurs.
First location to see the partial eclipse beginAug 21 at 15:46 UTC Aug 21 at 11:46 am EDT
First location to see the full eclipse beginAug 21 at 16:48Aug 21 at 12:48 pm
Maximum EclipseAug 21 at 18:21 UTC Aug 21 at 2:21 pm EDT
Last location to see the full eclipse endLast location to see the partial eclipse endAug 21 at 21:04 UTC Aug 21 at 5:04 pm EDT